NextWave Plastics is a consortium of multinational technology and consumer brands radically collaborating to rapidly decrease the volume of plastic waste entering the ocean by developing the first global network of ocean-bound plastic supply chains.
Since 2017, NextWave has supported the development of over a dozen (and counting) product use cases that showcase the viability of integrating ocean-bound plastic into member company supply chains. Together, NextWave member companies demonstrate that ocean-bound materials can go from linear to circular and by doing so, are creating value for what is currently a waste product. We are keeping plastic in the economy and out of the ocean.
Current member companies include Dell Technologies, Bureo, CPI Card Group, General Motors, Herman Miller, HP Inc, Humanscale, IKEA, Interface, Solgaard, and Trek Bicycles.
These member companies are committed to having maximum impact today—and for the future. We are committed to diverting a minimum of 25,000 metric tons of plastic—the equivalent of 1.2 billion single-use plastic water bottles—from entering the ocean by the end of 2025 in alignment with UN Sustainable Development Goal (SDG) 14.1.
What is Ocean-Bound Plastic?
We define ocean-bound plastic as plastic that has not yet found its way into the ocean and is classified as "mismanaged waste." That is, plastic that is not being collected and not likely to be collected and is found on the ground within 50 kilometers of a waterway or coastal area. Due to the high rate of fishing gear abandonment, NextWave Plastics includes reclaimed used fishing gear in our definition of ocean-bound plastic eligible for use in member companies' products.
The Marine Plastic Pollution Problem
There are currently up to 150 million metric tons of plastic in our ocean. Each year, more than 8 million more enter the ocean - equivalent to a garbage truck every minute - and this annual rate is on track to nearly triple by 2040. It is estimated that by 2050 there will be more plastic in the ocean than fish (by weight).
Ocean plastic pollution is largely due to the fact that people in many places of the world don't have access to sufficient waste management services. There is an opportunity to turn plastic into a commodity and rethink "waste" across the globe. In fact, it is estimated that we have the solutions and technology to stop 80% of ongoing ocean plastic pollution over the next 20 years if we pursue systemic change. Let's get to work!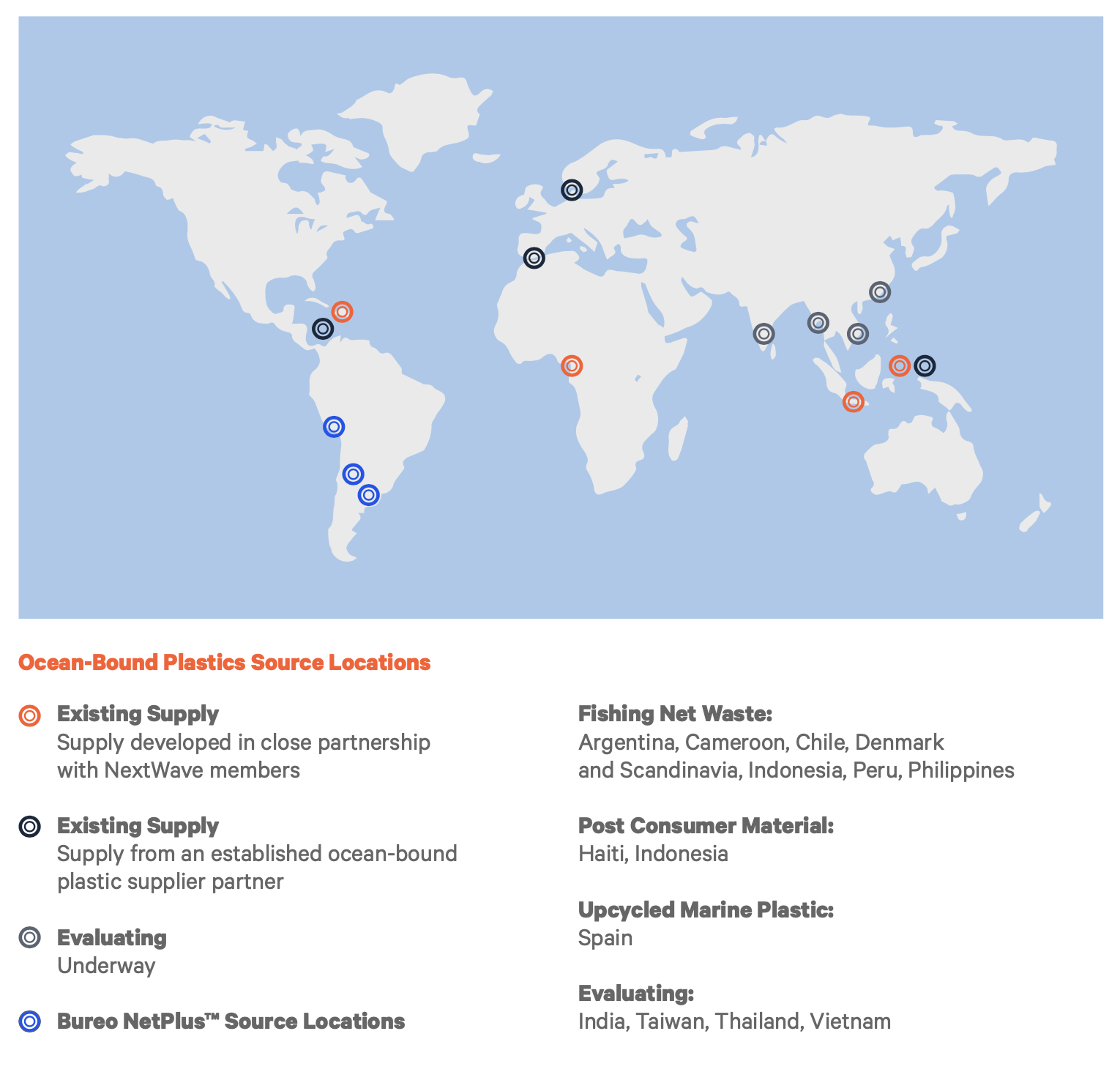 Contact Us
Kendall Starkman
Director, NextWave Plastics
Lonely Whale
kendall@lonelywhale.org
(562) 225-1001
| Access Date | Quiz Result | Score | Actions |
| --- | --- | --- | --- |
Already Registered?
Need Tech Support?
If you are using Internet Explorer this site will not function properly for you, please switch to another browser such as Google Chrome, Mozilla Firefox, Safari, etc.
Need further support? Please visit our FAQs page.